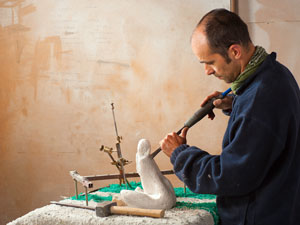 If you're looking to produce a tooled surface like those produced by hand carvers, but want to spend significantly less effort, look no further than the reciprocating carver.

The reciprocating carver remains stationary until pressure is applied against the wood, enabling it to cut through even the hardest of woods with just simple hand direction. This gives the carver great control, and enables you to produce a hand-carved look with much less time and effort. Another common use of the reciprocating carver is rough-out work on larger pieces.

Flexible carvers require using two hands, which means the wood you are carving must be clamped down for safety.

Reciprocating carvers come in different speed ranges, and with different carving blades depending upon how you plan to use the tool. Attachments may include gouges, chisels, skews, v tools, and macaroni.

Reciprocating handpieces can be attached to flexible shaft machines, which enable the flexible shaft machine to act as a reciprocating carver on a smaller scale.

When choosing a reciprocating power tool, be sure to consider how you're going to use it. The speed of the power tool, and the variety of carvers that accompany the tool, should help guide you in your choice.
---
Copyright © Power-Carving.com. All rights reserved.

Reciprocating Carvers