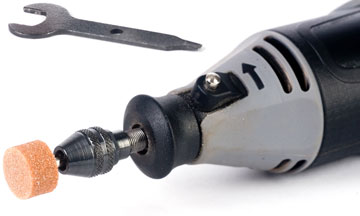 Micro motor machines are able to achieve speeds much greater than flexible shaft machines, making them ideal for experienced power carvers interested in fine detail work. Today, about 90% of all bird carvers use micro motor machines to achieve realistic texturing.

The motor of a micro motor machine is housed right in the handpiece. The handpiece is attached to a control box that provides power. The control box features an on/off switch, a dial or digital speed control, and either a foot control or a manual switch. Many power carvers who use micro motor machines prefer to set the speed manually rather than use the foot pedal, as it results in a more consistent speed.

Some newer micro motor machines feature digital output, which is an attractive feature for those who desire speed consistency.

The high speeds, which can reach up to 50,000 rpm, increase control and enable cleaner cuts. The lighter weight of both the handpiece and the cord that attaches it to the control box also make the micro motor machine easy to use and control.

Micro motor machines have lower torque than flexible motor shafts, which means they are not ideal for rough carving of larger pieces.

When choosing a micro motor machine, be sure to consider reliability, rpm, cost, comfort of the handpiece, service and parts availability, and warranty.
---
Copyright © Power-Carving.com. All rights reserved.

Micro Motor Machines