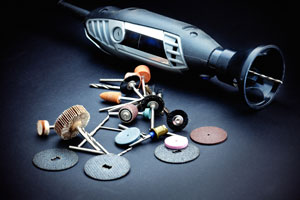 The majority of power wood carvers use flexible shaft machines and micro motors, both of which use a rotating bit or bur to remove wood. Some specialists use angle grinders or air turbine machines for specialized results.

The type of tools you use will depend upon the specific results you are hoping to get.
Flexible Shaft Machines vs. Micro Motors
Flexible shaft machines are powerful enough for roughing out carvings and for detail work, which means that they are often the first type of carving machinery purchased by new carvers. Many different handpieces complement flexible shaft machines, making them ideal for the carver who desires flexibility and who wants to use the tool for a wide variety of applications.

Flexible shaft machines have more torque than micro motors, but less speed. The higher speed of the micro motor is best for detail work and for those looking for finer, cleaner cuts, though they are also used for rough carving by experienced wood carvers.
What Equipment is Right for You?
If you're looking for greater flexibility and a good all-in-one tool, the flexible shaft machine may be your best option. If you're an experienced carver and want to master finer cuts and detail work, the micro motor may be ideal.

Either way, be sure to test drive power wood carving tools before buying. Look at things like the comfort and the weight of the handpiece, the noise of the tool, the dust generated, and the amount of vibration and heat created during use.
---
Copyright © Power-Carving.com. All rights reserved.

Carving Tools