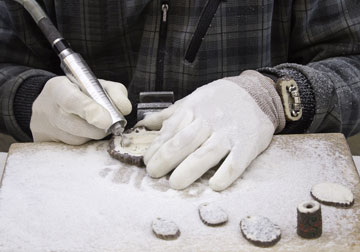 Flexible shaft machines, also known as flex shaft machines, are exactly what their name implies: flexible. They work well for all stages of power carving, from rough carving to most types of detail work. The flexible shaft machine is usually the first tool bought by power carvers.

The flexible shaft machine comprises an enclosed drive motor attached to a long flexible shaft. Different handpieces can be attached to the shaft, depending upon preferences in bit size and shape, application, and hand comfort. A bit or bur, which does the actual carving, is secured in a collet at the end of the handpiece. Many handpieces enable you to change the type of bit you're using simply by changing the collet.

Flexible shaft machines can be bench mounted or they can hang above the workspace. Many carvers choose hanging units because they free up the work area.

The revolutions per minute (rpm) of the bur are controlled by a foot pedal or a dial. The torque of the flexible shaft machine, or the power behind the rpm, is measured in horsepower (hp) and ranges from 1/15 hp to 1/3 hp. The higher the horsepower, the less the machine will lose rpm during carving. You'll want to carefully consider the type of carving you're doing when choosing a machine. For example, if you are primarily carving dense, hard woods, you'll want to choose a flexible shaft machine with more horsepower, so the bit does not lose power.

When purchasing a flexible shaft machine, be sure to consider reliability, speed, cost, availability of parts and service, and warranty. Reputable flex shaft machine suppliers include Pfingst and Foredom.
---
Copyright © Power-Carving.com. All rights reserved.

Flexible Shaft Machines